I love this place. And I love all the people in this place. Especially Team Jerry! We even have our own call: "TEAM JERRY ASSEMBLE!"
We are so cool.
Anyway, so I'll remember:
Judge: Professor Vessup
Juror 1: Maverick as an overweight motivational speaker.
J2: Jerry as a drunk frat boy.
J3: Jerry's girlfriend, then not, then girlfriend again.
J4: Def poet.
J5: Devon as a guy who runs a "charitable" organization that delivers organs to people. Secretly. From his employees. And graves.
J6: A Boston Red Sox fan, also repeating senior year of high school for the fourth time.
J7: Ashley as an NSLC Law student who now believes she's a lawyer.
J8: A homeless lady who eats garbage.
J9: Jason as a Mafia guy.
J10: Devi as an American Idol wannabe who sings all of her answers.
J11: Ashley's mom, a nice, sweet lady from Minnesota. With a super-strong accent and all.
And some pictures to tide y'all over.
(
Collapse
)
And two everyone must see, taken from the prosecution meeting. Pat Thomas is an expert dude we're using for expert testimony, Bud is the guy we're trying to put in jail. Pay attention to the red circled parts!
The "pro" list of good things about Pat Thomas: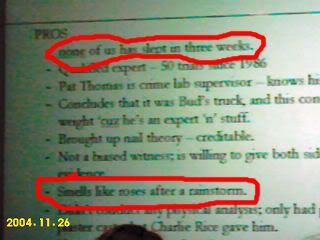 *
Summation of the case:
**
(* = "none of us have slept in three weeks" and "smells like roses after a rainstorm".
** = "Bud's just a barrel of murdering fun.")