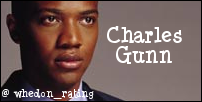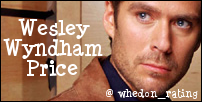 That's who I got voted as, with two votes for each. Plus one for Anya. I am SO freaking cool, yo.

Also, I AM TOTALLY FUCKING PISSED OFF. MY DEAKINS IS LEAVING THE SHOW! MY DEAKINS! *cries* I wonder who they'll get to replace him. Better be somebody I like, or fuck LOCI, I ain't watching. Of course, according to the TV Guide blurb I saw, they're adding folks to all three shows. Is it too much to ask for Dean Winters to come back? I mean, yeah, sure, he's a regular on Rescue Me this year, but still! The more Dean the better!

Ooh. Or maybe David Monahan as a series regular. Fuck yes. I'd die.