I picked up this book of various story prompts, right? The first one I opened it to was something like 'The lead singer of an anarchist rock band moonlights as a government operative'. So I, randomly, decided the band would be named Anarachnoid, with a logo that looks vaguely like this: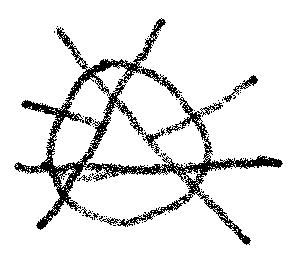 Yeah. So. I don't have a life, obviously. Furthermore, the character in question is Agent Steven Rikkemann, who goes by the name 'Striker' in the band. I need help.

Anyway, turns out Lance Bass is gay! Of course, my response on seeing the headline 'N*Sync member says he's gay' was "Which one?", so... Yeah. Not exactly the most shocking revelation in history. And evidentally he's in a committed relationship with some dude from the Amazing Race - I saw a picture of him, they'd be cute together. Heh. I have no life.